We are super excited to have these special guests for our Album Release Party!
Get to know them a little bit before the show!
Kilo P
Actor/Dancer/Rapper, Kilo P loves to infuse all his passions into his art.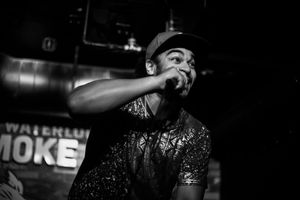 His musical influences span from hard rock to rap/hip hop to classical and everything in between, giving him a very versatile sound. His high energy performance always aims to please.
Kilo P is certainly an act you don't want to sleep on.
You can follow Kilo on
Instagram: 
@kilopbaby
Spotify 
https://open.spotify.com/artist/2MgrzVi5jX6vKHEmoAQt7E?si=PllU-WcsRDKH-pM_dE-tmg
DJ VinnyG
VinnyG is a DJ from Toronto who has been DJing for over 15 years. 
He is enthusiastic about music, his influences come from distinct artists such as Steve Angello, Carl Cox, Daft Punk, Deadmau5, Green Velvet, Tupac Shakur, Wu-Tang Clan, Weezer. 
Having played all over the GTA, such as at Moda Night Club and The Guvernment, VinnyG's been spinning beats since he was old enough to keep his local playground bumpin', making sure kids focused on their smiles & dance moves!
VinnyG loves to interact with the crowd and his ambition is to deliver a fabulous night of dancing & positive vibes to everyone on the dance floor.  
Don't be surprised when you find yourself dancing.
You can follow DJ VinnyG on Instagram @officialdjvinnyg
Wheat Free Sweets

Natalie Gallina, owner of Wheat Free Sweets, takes specializing in gluten free baking to a whole new level of flavour!
Currently studying Baking and Pastry Arts Management at Humber College, her craft surely surpasses her credentials. Natalie can flat out bake! 
Creative and passionate, Natalie has been making gluten free for years. 
Vending some delicious homemade food, you'll find churros, meatballs and kettle chips! 
"Come out and support these amazing artists and enjoy some amazing food!" - Natalie Gallina 
You can find more about Wheat Free Sweets on instagram @wheatfreesweets
One of the snacks Natalie is making for the event: Churros with dulce de leche