The Justin Kelly Experiment always promises an intimate night of Original Music & Storytelling sharing adventures and sounds from around the world! 
Excited to announce our new EP "Grow Me Roots: A Traveller's Story", we'll be launching a Release Party at The Smiling Buddha, September 21st!
A creative adventure is one of a true traveler, and this is what this night is about... take time to experience the depth of language, dance, creativity and music all blended into a versatile tornado of expression! 
The "Grow Me Roots: A Traveler's Story" tour begins the start of a new wave of music to be released with collaborations and performances by emerging Canadian artists DJ Stuck, Kilo P, Ro'Che Dat Guy, DreCey, Julian Monardo, DJ VinnyG, Jess Kelly & Dave Super Dave. 
Life is meant to be enjoyed together, Art, Music & Family is how we celebrate the wonderful energy on this planet!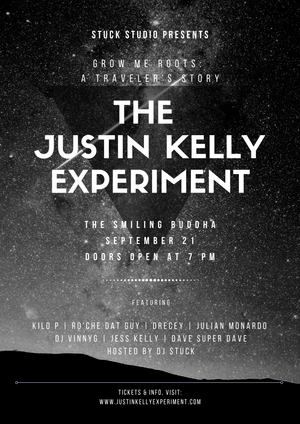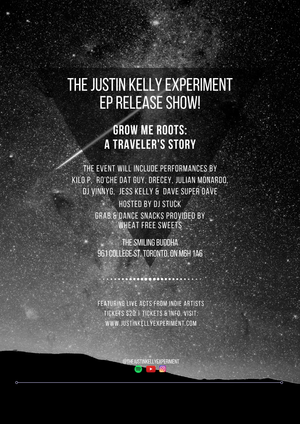 Get tickets 

here